Killer Heat: Extreme Temperatures and Migrant Workers
The Vital Signs Partnership's third report explores how extreme temperatures and labour practices in the Gulf states combine with devastating consequences for the health of migrant workers from South Asia.
It finds that extreme and rising temperatures in the Gulf states, combined with inadequate protective measures, are placing migrant workers across the region at acute risk of potentially fatal heat-related illnesses and injuries.
Working in extreme heat
In most parts of the Gulf, there are between 100 and 150 days when maximum daily temperature exceeds 40ºC. For the same period, the annual average in New Delhi is 24 days. Extreme temperatures are not rare "heatwave" events in the Gulf, but present for three to five months of every year. Exposure to such a climate can create cumulative stress on the body and risks exacerbating the impact of respiratory and cardiovascular diseases, diabetes and kidney disease. Rapid rises in heat gain can cause what the WHO describes as "a cascade of illnesses", including heat cramps, heat exhaustion, hyperthermia and heat stroke.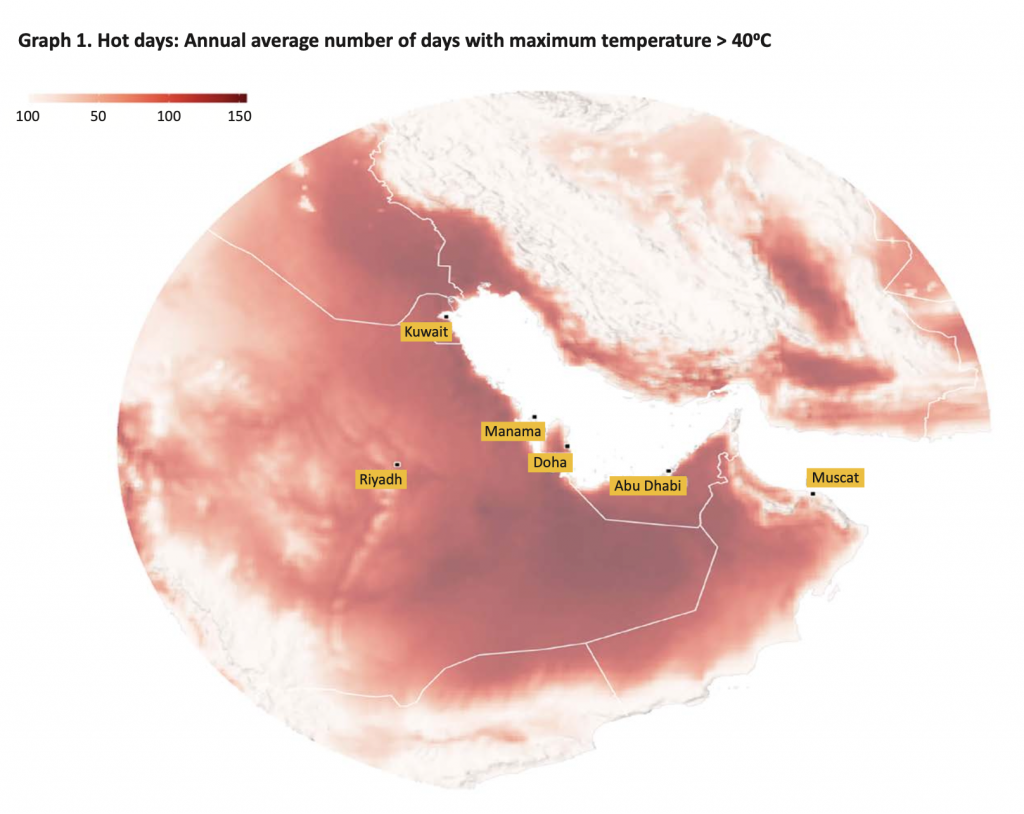 Ganesh, from Nepal, went to UAE in 2018 to work as a lifeguard, and spent 12-hour shifts at the outdoor rooftop swimming pools of apartment blocks. "The ground was so hot I couldn't touch it with bare feet," he recalled. "It would burn my skin. You can't imagine how hot it was." Ganesh developed numerous health issues after he returned to Nepal. Doctors diagnosed kidney failure, which he suspects resulted from his substandard living conditions and abusive working conditions in the UAE.
Construction workers are particularly at risk of heat stress because of their exposure to sunlight, the strenuous nature of their work and the need to wear personal protective equipment (PPE). A man who worked on building projects in the UAE told the Vital Signs Partnership that the heat was so intense that sweat would leak from his boots. "Ten minutes after the bus dropped us off at the work site, I felt like life was exiting my body."
COP28 in Dubai
In 2023 the Gulf region hosts COP28, the crucial UN global climate conference, with the UAE leading negotiations as president. In May 2023 the UAE announced that for the first time, a day of the COP talks would be specifically dedicated to the health impacts of climate change.
In 2021, cleaners and security guards at the Dubai Expo center, which will host the COP28 conference, told the Associated Press of 70 hour weeks in the withering sun. One Kenyan security guard told the AP: "Work, sleep, work, sleep. There's no freedom… You just need to try to survive one day to another." When the Expo 2020 opened in October, well after the end of UAE's summer working hours ban, tourists fainted from the heat. The human rights NGO Equidem in 2022 reported comprehensively on forced labour and discrimination against migrant workers at Expo 2020.
The climate change projections for the Gulf in this report are as horrifying as the personal accounts of the workers exposed to 2023 temperatures in countries like the UAE, whose COP presidency places it in a unique position of responsibility this year. It is necessary and welcome that there will be a focus at COP on the health impacts of climate change. As part of that discussion, the UAE and other Gulf states should be prepared to address the appalling impact of their systematic failure to provide basic protection to the people whose labour sustains their extremely wealthy societies.

Nicholas McGeehan, co-director of FairSquare and member of the Vital Signs Partnership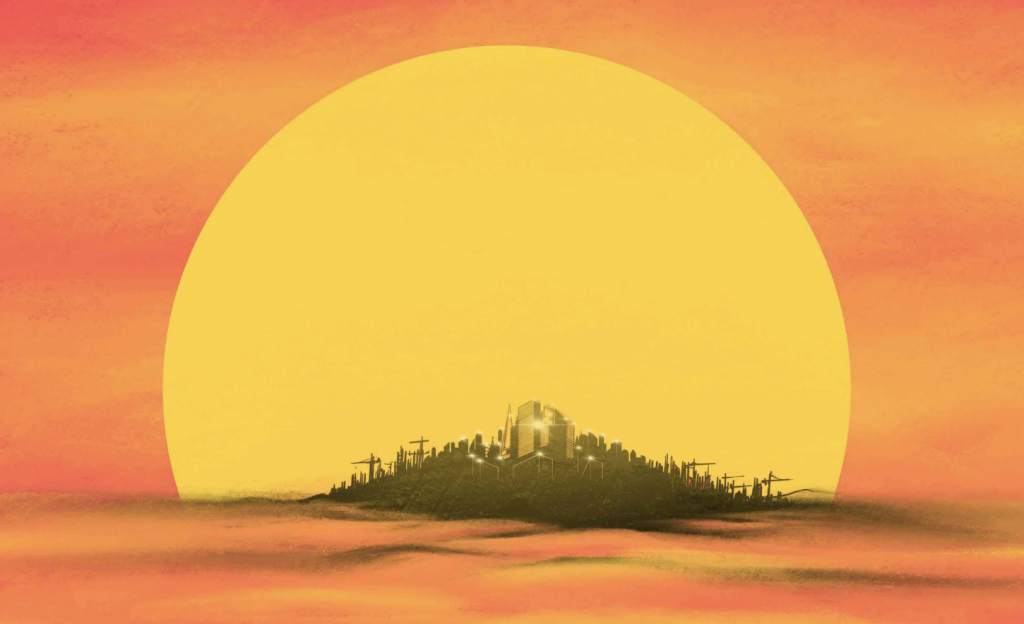 Climate data and future projections
The Vital Signs Partnership commissioned Barrak Alahmad of the Department of Environmental Health at the Harvard T.H. Chan School of Public Health and Dominic Royé of the Foundation for Climate Research (FIC) to analyse Gulf climate data, drawing on the latest state-of-the-art climate change projection models downscaled from NASA (NEX-GDDP-CMIP6). They found:
In Abu Dhabi, the capital of the UAE, this year's COP28 President, the number of days where air temperature exceeds 40ºC will increase by 51% by the middle of the century if global temperatures increases by 1.5ºC, and by 98% by the end of the century if they increase by 3ºC.
A 3ºC increase will see Kuwait, Bahrain and Saudi Arabia experiencing 180 days out of 365 days where the temperature exceeds 40ºC by the end of the century.
The Gulf region experiences dangerously hot night time temperatures, as well as extremely hot days. In June 2022 the temperature dropped below 30ºC only eleven times during 28 days, and was above 30ºC for 278 out of 290 night hours (between sunset and sunrise).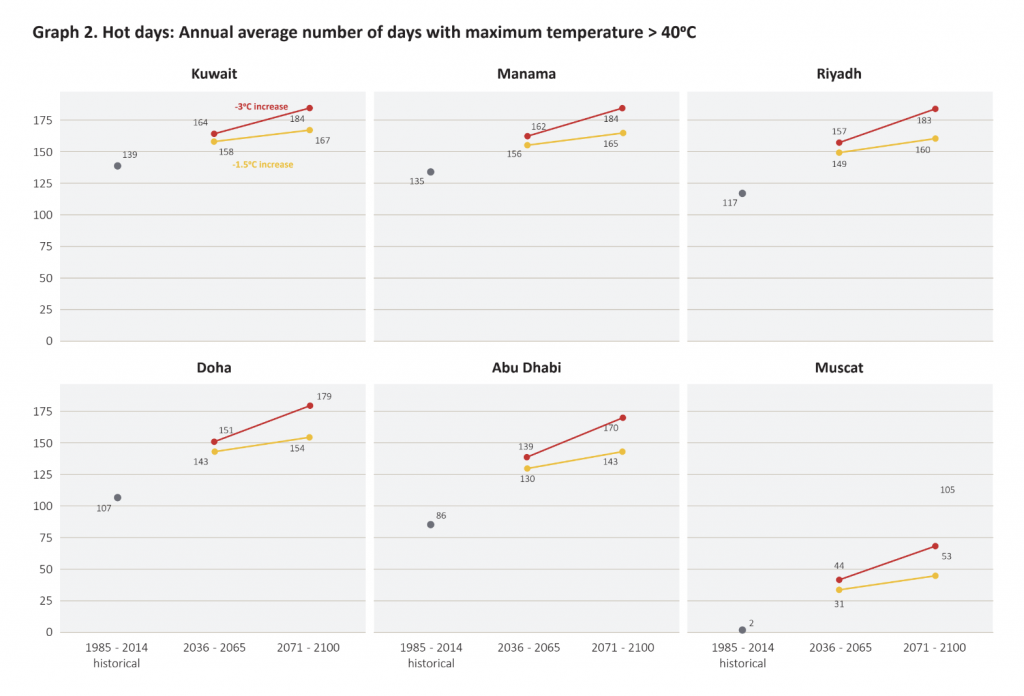 Barrak Alahmad told the Vital Signs Partnership that even under more optimistic mitigation scenarios like 1.5ºC these temperatures would markedly increase heat-related deaths in the region. "These conditions could seriously disrupt human societies in ways we are just beginning to understand."
Chronic Kidney Disease
Global concern is growing regarding the development of kidney injury and chronic kidney disease (CKD) – a fatal, progressive loss of kidney function – in people who frequently perform physically demanding work in the heat. A nephrologist at Dhaka Medical College Hospital in Bangladesh told Vital Signs Partnership members RMMRU that he received many patients returning from the Gulf with kidney problems, attributing this to exposure to the heat and not consuming enough water to compensate for water lost as perspiration.
Sujan Thami, a 40-year-old worker from Nepal, worked as a plumber in Qatar in what he described as "searing heat" six days a week, often from the early hours of the morning until midnight, which left him "extremely exhausted". He told the Vital Signs partnership that his accommodation resembled an "abandoned house", without air-conditioning. At his workplace, 100 workers shared a single water point. After only nine months in Qatar, Sujan began to experience blurred vision, headaches,and vomiting, and medical tests revealed that his kidneys were not fully functioning and that he needed immediate dialysis. A kidney transplant is unlikely due to the cost. "I don't know how much longer I will live," says Sujan. "I may die at any time."
Dr. Rishi Kumar Kafle, Executive Director and Chief Nephrologist at Nepal's National Kidney Center told the Vital Signs Partnership that the numbers of Nepalese workers returning from the Gulf with chronic kidney disease was increasing and lamented the fact that poorer nations like Nepal foot the bill for costly dialysis, and that returnee migrants themselves have to pay for items like syringes, blood and iron.
"Nepali workers go to the Gulf to earn money, but return with kidney disease. Gulf nations are rich, they're resourceful. They invite people from abroad to work for them. That's okay, but they should provide safe working conditions. Why are these wealthy Gulf nations not doing anything for these workers?"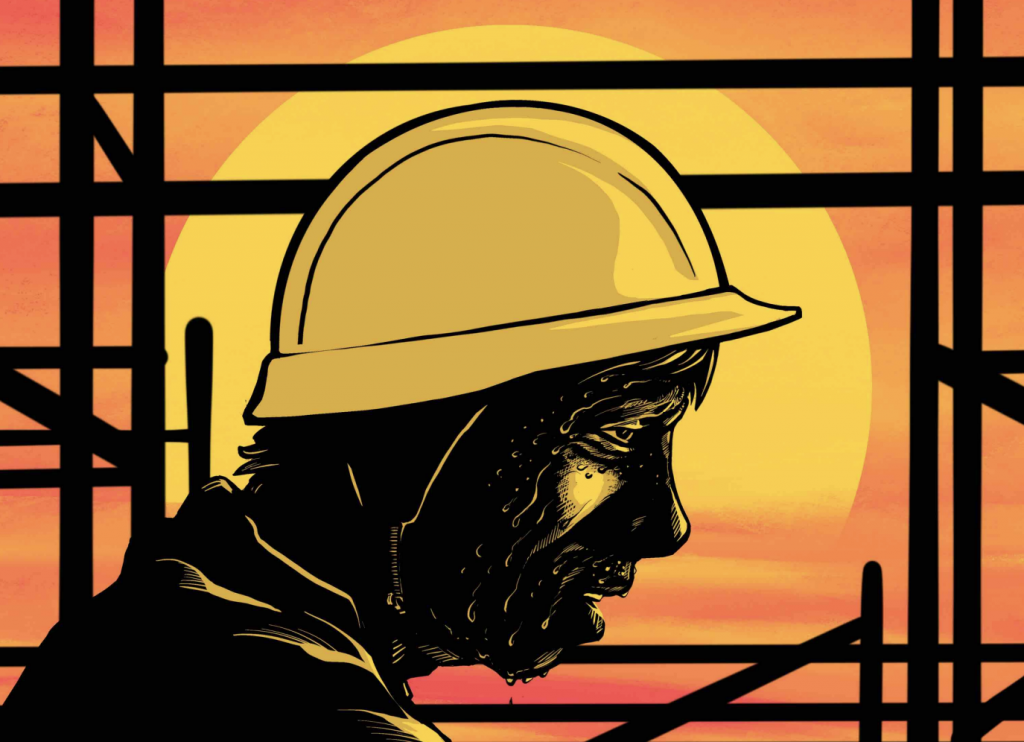 Lack of protection
None of the six Gulf Cooperation Council (GCC) states have laws that adequately mitigate the risk posed to outdoor workers by its extremely harsh climate. Each imposes a rudimentary ban on work at certain hours of the day during the summer months. The striking lack of consistency between countries underscores the unscientific nature of these measures. The UAE prohibits work for the least time of all the Gulf states, approximately half as much as Kuwait, and 40% of the hours banned in Qatar.

In May 2021, Qatar extended its ban on summer working hours to 588.5 hours a year and introduced additional legal measures requiring employers to mitigate the risk to workers from heat. These offer greater protection than the previous legal framework, but experts say they still fall significantly short. Professor David Wegman, an expert on health and safety, has described the Qatari legislation as "an improvement that falls far short of what is necessary", emphasising the critical importance of balancing work and rest periods.
Lack of data
There is almost no data on the impact of heat on migrant workers in the Gulf. This is alarming given the well-established link between extremely high temperatures and increased rates of death.
The first Vital Signs report, published in 2022, found that of the approximately 10,000 deaths of migrant workers from south and southeast Asia in the Gulf annually, more than one out of every two are effectively unexplained, with deaths officially certified without any reference to an underlying cause, and terms such as "natural causes" or "cardiac arrest" appearing on death certificates instead.
"As the already brutal heat is likely to get worse, the Gulf states need to step up their approach to protect the millions of migrant workers who are so crucial for their economies. We are calling for ambitious action, including much stricter protective measures in the workplace, as well enabling workers to access adequate accommodation, nutrition and healthcare."

C R Abrar, Executive Director of RMMRU and member of the Vital Signs Partnership
Exposure to extreme heat affects cognition, causes heat cramps, heat exhaustion and heat stroke, and leads to heightened risks of death from common cardiovascular conditions. Long-term exposure to heat is associated with the development of chronic kidney disease in people working outdoors. Heat exposure of this nature is widely experienced by migrant workers in the Gulf countries, and is set to be an urgent issue globally as temperatures rise due to climate change. Protecting workers from exposure to heat requires ambitious action and includes enabling workers to access adequate accommodation, nutrition and healthcare. Current heat protection measures in the Gulf are inadequate, but the Gulf countries have an opportunity to step-up their approach and lead the way in setting a high standard for others to follow.
Recommendations to the governments of Gulf Cooperation Council (GCC) states:
Adopt a risk-based, rather than a calendar-based approach to limit workers' exposure to heat. Pass legislation to ensure that employers are required to provide workers with breaks of an appropriate duration, in cooled, shaded areas, when there is an occupational risk of heat stress; mandatory break times should take into account the environmental heat stress risks along with the exertional nature of the work being performed.
Require all employers to ensure workers have easy access to water and chilled food storage facilities at work sites, and fully air-conditioned accommodation. Stress to employers that malfunctions in air conditioning should be treated as a maintenance priority.
Ensure access to primary health care where preventable conditions are identified early and avoided.
Conduct a study into the prevalence of CKDu or early stage kidney disease among low-paid migrant worker populations.
Ensure that labour laws and occupational safety and health regulations align with international standards, that migrant workers are fully informed of regulations and are adequately trained, and that labour inspectorates are properly resourced and empowered to instigate administrative proceedings and to refer serious violations for criminal prosecutions.
Make all necessary healthcare for low paid migrant workers free of charge at the point of care, irrespective of workers' immigration status or their possession of identity documents. Ensure that fully resourced clinics and emergency rooms are in close proximity to areas with large populations of low-paid migrant workers.
Commit to funding the healthcare costs, including kidney dialysis, of migrant workers who return to their countries requiring treatment for chronic kidney disease they contracted in the Gulf.
Recommendations to the governments of origin states
Make available all historical data on deaths of overseas workers, disaggregated by destination, occupation, age, gender, date of death and cause of death. This data should be available online and presented in a way that facilitates effective analysis by public health experts.
Commission and publish studies into the prevalence of CKDu among nationals returning from the Gulf, which should include full details of the cost of their treatment and the proportions of those costs that are paid for by the government, private insurers, or the patients themselves.
Call on the Gulf states to: enhance investigation procedures for migrant worker deaths; commission independent investigations into the causes of migrant worker deaths; enhance legal protection from heat stress.
Publicly press governments of the GCC states to improve access to healthcare for migrant workers: highlight existing barriers and urge their removal.