The Cost of Living: Access to Healthcare
The Vital Signs Partnership's second report describes how multiple barriers prevent low-income migrant workers from accessing non-emergency healthcare in the six states of the Gulf Cooperation Council (GCC).
Easy access to healthcare is particularly critical for low-paid migrant workers in the Gulf due to the multiple adverse health conditions that can result from their work. However, this report, published in 2022, finds that:
Gulf states' healthcare services are generally not tailored to the specific needs of migrant workers.
There is obvious evidence of discrimination in access to healthcare for migrant workers, with lack of documentation and affordability the most significant obstacles.
The inability of low-paid migrant workers to easily access non-emergency healthcare services has a detrimental effect on the general physical and mental health of this population, and it is likely that it is a significant factor both in the number of preventable deaths, and the high rate of unexplained deaths.
The gradual shift in the region to mandatory private health insurance is more likely to further restrict access to care than to improve low-paid migrant workers' access to healthcare.
"Given the risks that these workers face, they need health services that are easily accessible and tailored to their needs. This report provides the evidence that many migrant workers in the Gulf are cut off entirely from healthcare, and rely on panadol and plasters, when what they need are surgeons and stitches"

Spokesperson for the Centre for Migrant Advocacy in the Philippines
Research for this report includes the findings of an in-person survey of 1,101 low-paid migrant workers in Kuwait, field research in Saudi Arabia and the United Arab Emirates, and draws on the insight of numerous medical and public health experts.
Key findings and recommendations
Key barriers to healthcare
The findings of an in-person survey of 1,101 low-paid migrant workers in Kuwait conducted for this report between May and July 2022 provide a clear picture of the barriers to healthcare that low-paid migrant workers face. Cost was a significant barrier, with 30 percent of respondents saying that they could rarely or never afford healthcare, and only 18 percent of respondents saying they could always afford healthcare. The key barrier to care was a lack of proper documentation, with more than half of respondents – 51 percent – saying they had been discouraged or prevented from accessing healthcare due to not having physical proof of their identity.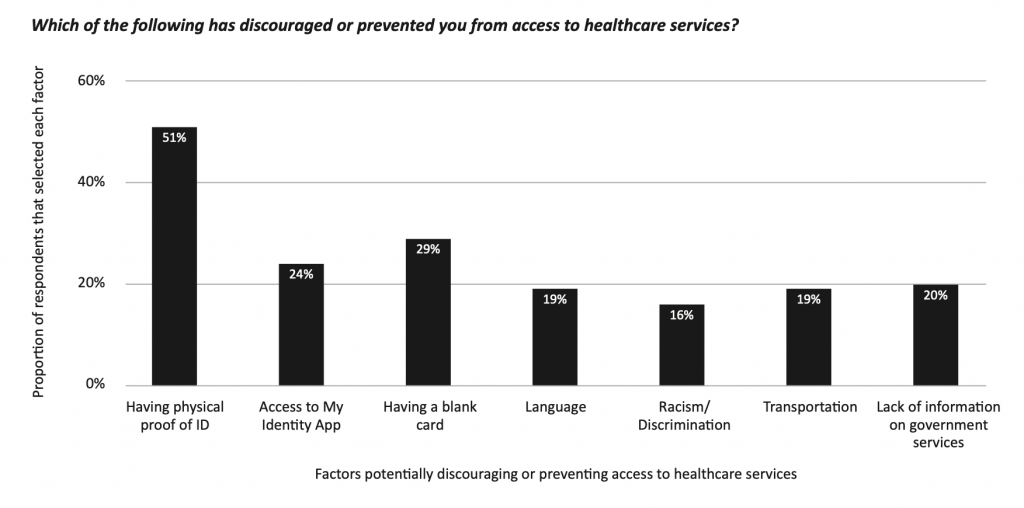 The most obvious problems are when migrant workers' illnesses or injuries do not meet the threshold for free emergency care. "I think the worst situation to be in is when you are in the mid-range of injured in an accident," a worker in Dubai told the Vital Signs Partnership.
"If it's minor, you can just get a painkiller or see a doctor in a nearby clinic and you are back on the road. Insurance or not, it is affordable. If you are near death, then you will go to emergency. But if you are in the mid-range, you have to figure out insurance-covered clinics and deal with all that. And you lose out on work. And you are in pain."

Food delivery driver in Dubai
In addition to affordability, lack of documentation and lack of insurance, many of the migrant workers we spoke to reported that racial discrimination that discouraged or prevented them from accessing healthcare. "We feel we are not important when we go to the hospital," said one Filipino respondent in our Kuwait survey, where 25 percent of those who said that they endured racial discrimination said that it had manifested in them being denied treatment altogether.
The Gulf states have among the best health services in the world, but as this report documents, these services are designed with the Gulf's high-income inhabitants in mind, not the low income workers who are most in need of five-star care. Whether they've had their passports confiscated, can't leave their employers' homes, or are discouraged by the racial discrimination they encounter from healthcare professionals, too many workers aren't getting nearly enough care. As a result, treatable diseases become life-threatening, and serious diseases become untreatable.

Dr Abrar Chowdhury of the Refugee and Migratory Movements Research Unit in Bangladesh
Women domestic workers' access to healthcare
The report highlights the specific and distinct barriers that female domestic workers face in accessing healthcare services. A 35-year old Bangladeshi woman who worked as a domestic worker in Saudi Arabia recounted to the Vital Signs Partnership a pattern of abuse in Kuwait that had a serious and lasting impact on her physical and mental health. She was seriously overworked, physically beaten, and told that she had to buy herself medicine and menstrual products, despite not being allowed to leave the house. She had to rely on medicine that she had brought with her from Bangladesh, but this quickly ran out. Within four months she became severely ill, but her employer refused to let her visit a doctor until she became completely bedridden. Upon her return to Bangladesh, she was diagnosed with jaundice and liver damage, and continues to suffer from gastro-intestinal issues.
Vani Saraswathi, an expert on domestic workers' rights in the Gulf explained how the dependence on the sponsor is heightened in the context of domestic work.
"The ability to leave the employer's house and get their own health card…to independently decide to see a doctor when they are ill just does not exist for domestic workers across the region."

Vani Saraswathi, Migrant-Rights.org
Saraswathi also noted how the long working hours and low wages of domestic workers led them to disproportionately access emergency medical care.
Private health insurance as a further barrier to care
"Good insurance isn't cheap and cheap insurance isn't good," an insurance broker in the United Arab Emirates told the Vital Signs Partnership, in reference to the problems that mandatory health insurance causes for low and middle income migrant workers. Research for this report suggests that the Gulf states' shift to mandatory private health insurance for all, including low-paid migrant workers, is likely to pose a further barrier to access to healthcare.
The use of private health insurance for non-citizens in Saudi Arabia and the United Arab Emirates is well established, and the other Gulf states have either recently followed suit, as in the case of Qatar, or are in the process of doing so. The shift to privatisation both in the provision of care and in its funding appears to be at least partially motivated by the desire to open up new revenue streams and thereby help to mitigate the dependency of the Gulf economies on oil revenues. A 2022 study on the impact of private health insurance in Dubai found that although it encouraged people to access more healthcare, this general effect was not reproduced in the case of low-paid migrant workers in particular, who did not increase their per capita use of health services. Vital Signs Partnership research among migrant workers in Saudi Arabia and the United Arab Emirates demonstrated a variety of problems related to private health insurance.
Migrant workers in Dubai described how employers exploit regulations to avoid providing health insurance, and how health insurance providers can limit, delay or prevent them from accessing health care. Many are employed by third-party agents registered outside of Dubai, in emirates where there is no legal requirement that employers provide health insurance. In such cases workers either pay insurance themselves or risk working while uninsured.
""I have insurance that my agents paid for but it covers nothing."

Amir, 27-year old man from India
Informal channels of healthcare and use of non-prescription medicine
The various barriers that migrant workers face in accessing formal healthcare mean that they often seek care through informal channels. Numerous low-paid migrant workers in Jeddah in Saudi Arabia told us that they would often seek the paid or unpaid assistance of doctors. A Pakistani doctor who has been practicing in a Jeddah public hospital for almost two decades, said that it used to be possible to treat migrant workers in public hospitals without formally registering them and that he knew of several cases where essential surgery had been arranged for migrant workers. He said this had now become more difficult: "Everything is computerized now so it is not possible to see patients that easily unless they come through the system," he said.
Workers who aren't able to access doctors either formally or informally often resort to the use of non-prescription medicines, which they either bring with them from their home countries, or source from pharmacies or colleagues. 65 percent of respondents in our Kuwait survey said that they took non-prescription medicine to treat a "serious illness" when they could not access better healthcare. Of those who had taken non-prescription medicines, 65 percent of those who responded said they had taken the painkiller Panadol. The use of non-prescription medicines was a recurrent theme among the low-paid migrant workers we spoke to.
"The person who arranged my visa and tickets advised me to take Panadol, and Brufen [Ibuprofen] to Dubai because they are often needed and difficult to obtain in Dubai. We always requested someone arriving from Pakistan to bring medicines along with him."

36-year old Pakistani factory worker in Dubai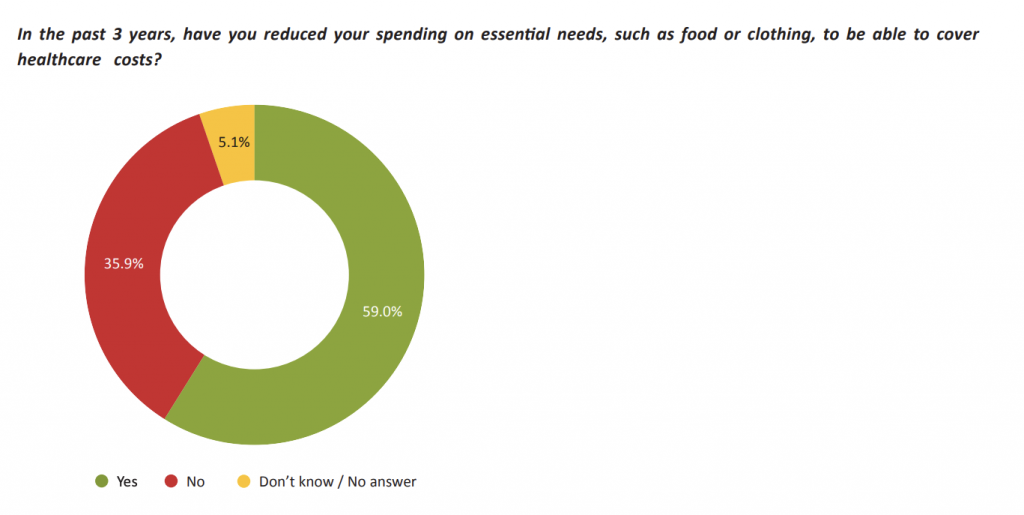 Access to health as a contributory factor to preventable and unexplained deaths
It is not possible to state with any degree of certainty how many deaths of low-paid migrant workers could have been prevented with timely and regular access to healthcare, but healthcare professionals who spoke to the Vital Signs Partnership offered expert insight on the potential links not just between deaths and access to health, but also on the high rate of unexplained deaths and workers' inability to easily access healthcare.
Professor Vivekanand Jha, the Executive Director at The George Institute for Global Health, India, and Chair of Global Kidney Health at Imperial College London "Without easy access to healthcare, preventable diseases go untreated and can develop into more serious conditions, and chronic diseases will be detected later. In both cases these place a further burden on health services." Professor Jha said that the inability of workers to access healthcare was in all likelihood "a critical factor" behind the high rate of unexplained deaths.
Dr. Birat Krishna Timalsina, a cardiologist at the Shahid Gangalal National Heart Centre and Metro Hospital in Kathmandu told the Vital Signs Partnership that failure to provide easy access to health "would be a contributory factor in the number of preventable deaths, particularly in an environment where workers are exposed to extreme heat, or other environmental conditions and high levels of stress", and added that the failure "could be a factor in the high number of unexplained deaths".
Dr Dennis Batangan, a public health specialist from the Philippines, told the Vital Signs Partnership that "for high risk individuals in need of regular and/or specialized health care, difficulty of access to health care services will determine to a large extent the course of illness for these individuals." Dr Batangan also drew attention to the risks of migrant workers consistently taking non-prescription medicine in the absence of any medical advice. "In the absence of such advice and monitoring, there might be progression of the disease and/or untoward effects of the medications that may not be addressed."
Dr Rashidee Mahboob, the former president of the Bangladeshi Medical Association, expressed concern at the high rate of deaths of low-paid migrant workers attributed to natural causes in the context of risks to which they are exposed in the Gulf and told the Vital Signs Partnership that "extra precautions" were required for South Asian workers in the Gulf.